Epona's Way Pagan Pages
|
home




Pagan as Creator

Wiccan & Pagan
Poetry, Prose, & Art
Also: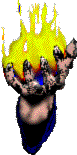 These pages are dedicated to the Pagan Man or Woman
who understands their role as co-creators of
the Universe!
Please submit your creations, to be posted on these pages. We love to hear from everyone, and look forward to reading and displaying the fruits of talents given to us by our Gods. Submit at bottom of page !
Prose & Opinion
Stories, poems, opinions, and other written material
may be edited for grammar and syntax; however, we
will not edit for content. You may send your website
address for a link after your work; visual art will
become a link to your site, so please
send your address. Blessed Be!
Submit Now!
---
---
Find Much More at